Our Philosophy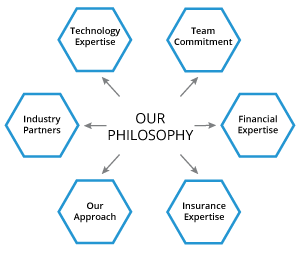 Our Approach:
We succeed because of our determination to get projects done right and on time. We work as a team to provide insurance software solutions that are customizable, intuitive, and seamlessly integrate with existing business solutions and processes. We know the importance of making budgets and tracking return on investment, and that is why the industry can count on us to develop solutions that are always consistent with technology needs and are in tune with client requirements and expectations.
Technology, Financial and Insurance Expertise:
Our clients turn to us with confidence because of our deep industry knowledge of insurance and financial services products, practices, regulations and compliance, and our ability to assist them in streamlining their business processes. Our team consists of top insurance and technology professionals who are able to identify and solve insurance business problems using innovative technology. With our domain knowledge, strong project management and proven project delivery methodologies, we are able to support a variety of relationship models to meet client specific needs.
Team Commitment:
We understand that it takes a collaboration of technology and insurance expertise to provide world-class software to the financial services industry. That is why we have a commitment to our employees that is based on a simple fact that our greatest asset is our team members. Our team is responsible for our past, present and future success; and in recognition of their value, we offer excellent career development and rewards for outstanding performance.
Partners:
We collaborate and partner with industry leading insurance, technology, and regulation organizations to provide the most comprehensive solutions and sales capabilities.